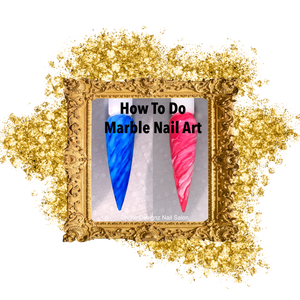 Online Nail Class: 3 EASY ways to do Marble Nails + 2 BONUS LESSONS
Regular price $25.00 $5.99 Sale
Are you nail beginner just starting out doing nails? Currently enrolled in a nail program? Tired of struggling with nail art? Self taught or a nail professional wanting to learn how to do marble nail art? 
If you answered YES to any of these questions then this class is for YOU! 
In this online course, you will learn how to create the most beautiful marble nail art designs  using: Gel polish, Ink, and Sharpie markers. This course is beginners friendly and perfect if you're just starting out in the nail industry or a Pro wanting to enhance your skills! If you can't seem to understand one way, you will learn several other ways and techniques on how to get the same result!


BUT WAIT, THERE'S MORE!
By purchasing this course, you will also gain INSTANT access to TWO BONUS lessons on how to do marble nails using regular nail polish! These two lesson are a MUST especially if you're a beginner or self taught and don't have access to a UV or LED light!
Upon completing, you will know how to do marble nail art designs using a sharpie, gel polish, ink and  nail polish.
A certificate of completion will be available and sent to your email once course of complete.
How to gain access to course:
1. Create a customer account.
2. Add this product to your shopping cart and checkout using your login information.
3. After purchase, hit the Courses tab from the Main Menu
4. Sign into your account and you will see the course under My Courses
Click here for more in depth instructions on how to access the course https://divinedesignz01.com/pages/how-to-access-online-nail-courses